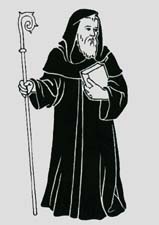 St. Benedict Monastery
Gift Shop
est. 2000
Books - Sacramentals
---
Ordering Instructions

PLEASE NOTE: THE GIFT SHOP EMAIL ADDRESS HAS CHANGED AS FOUND IN THE LINK!
To order simply e-mail us your "wish list" (title and number) and we will reply with the total cost (including shipping) and confirmation of the item(s) you requested. If you are a member of the St. Benedict Prayer Companions, please let us know. We accept checks or money orders payable to St. Benedict Monastery (we do not recommend sending cash). We will hold the requested item(s) for up to ten days while waiting for the payment. All orders are shipped via USPS 2 to 4 day Priority Mail. We will ship First Class or Parcel upon request. Our mailing address is:
Br. Gregory-David Jones, O.S.B.
St. Benedict Monastery
2711 E. Drahner Rd.
Oxford, MI 48370
For those living near us who are interested in purchasing items directly, we would like you to
email
us to let us know.