Fr. John Martin's Vocation Journey: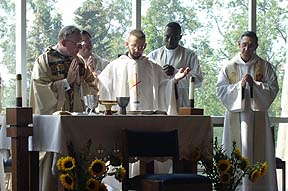 One Man's "Search for Meaning"
Af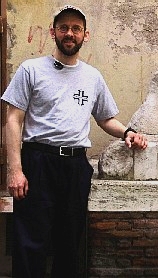 ter having been in the monastery for a good number of years, I happened upon a well-known book by psychiatrist and Holocaust survivor Viktor Frankl. The book is entitled "Man's Search for Meaning" and it speaks of the vital importance of finding meaning in one's life. Indeed, it was Frankl's experience that the discovery and pursuit of what we find meaningful makes possible both the achievement of great things and the endurance of tremendous suffering.

I make reference to that book because my early life was like a search for meaning, a meaning that I eventually found in the monastic commitment. Growing up in Downriver Detroit, I followed a typical path in my education and eventual career as an accountant. But the further I moved along the journey of this ordinary life, the more something "extraordinary" seemed to beckon me. I had been a more or less faithful Catholic throughout, but something (or Someone) seemed to be inviting me to explore my faith life in greater depth. And this "invitation" eventually developed into a "vocation", as I started to follow my heart and let go of my fear of doing something "different" than what others were doing. As I began reaching out for vocational information and experiences - starting first some discernment around the diocesan priesthood - it became apparent that life in a religious community presented that "deeper meaning" I was looking for.

As an "aspirant", that is, one discerning a call to a particular religious community, I made several visits to St. Benedict Monastery, each of increasing duration and I found the monks extraordinarily hospitable and welcoming. I also learned that, unlike many Orders and Societies in the Church for whom community life is a kind of byproduct of their ministerial charism, Benedictines actually begin with community – a shared life of prayer and work – and reach out to the Church and the world from that experience. Our former Prior, Fr. Daniel Homan (God rest his soul) who explained that as Benedictines we are not tied to any one ministry but can do whatever work we deem valuable and "meaningful", provided we did it together. And that approach to religious life really spoke to me.