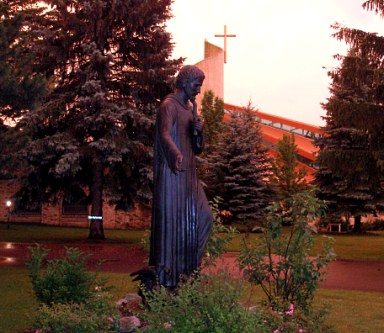 July 11th was the Solemnity of our Holy Father St. Benedict, the founder of our Order, which brought an occasion for our Community here at St. Benedict Monastery to celebrate. Our celebration actually began the evening before when, after First Vespers of the Solemnity. The following day (the feast day itself), along with the Liturgy of the Hours, a Mass celebrating the solemnity took place in the morning. In the evening after Second Vespers, the monks partook in a feast day dinner at a local restaurant.
The Solemnity of St. Benedict for many years occurred on March 21st which is during Lent which limited its liturgical celebration; for this reason the Church around the time of the Second Vatican Council transferred it to July 11th. Although the Church does not celebrate St. Benedictís feast in March any more the Benedictine Order throughout the world still maintains it as a feast under the title of The Passing of our Holy Father Benedict for it is the actual day St. Benedict was called home to Heaven. And, of course, this gives the Monks here at St. Benedict another reason to have a special type of fellowship celebration, which we will never refuse.
---
For last week's news story, click here.