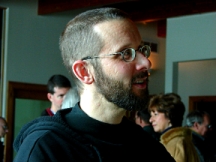 After being back at home at St. Benedict Monastery for over a month, Fr. John Martin Shimkus headed off to the airport to return to Italy on January 4th. Last August, Father travelled there to begin courses on religious formation at the Angelicum University in Rome and resided with our community at the Monastery of St. Stephano in Rome. He took the classes in preparation for his involvement in our formation of postulants, novices and junior monks planned for the future. Although he did enjoy his time with his confreres, family members and friends in his home country, Father had his mind set on returning to Rome and completing his studies. Father will have a brief return to St. Benedict Monastery for Holy Week, but will resume the classes which will be completed in June.
Please pray for Fr. John Martin, that he will have safe travels and that his time in Rome will be a great benefit to our community and our future.
---
For last week's news story, click here.