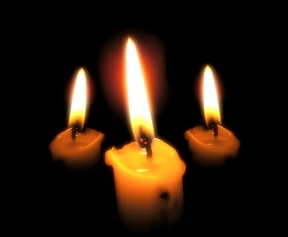 Holy Week at the monastery was indeed a special time for our community. On Holy Thursday morning through Holy Saturday, we will celebrated the Tenebrae service or ďService of DarknessĒ which anticipates and mediates on the Lordís suffering. Included in this early morning service are the recitation of Psalms, readings, singing of the Lamentations of Jeremiah the Prophet and the lighting and subsequent extinguishing of the Tenebrae candles. A special observance of silence starts after the Mass of the Lordís Supper on Holy Thursday night which gave a fitting atmosphere of prayer and reflection in the monastery on Good Friday. Of course, the culmination of the celebrations will take place on Saturday night at the celebration of Lordís Resurrection at the Easter Vigil Mass. In addition to the Liturgies listed below, all are welcome to attend the Tenebrae services at 7 a.m.
St. Benedict Holy Week Schedule


| | |
| --- | --- |
| Mass of the Lord's Supper | April 18th at 8:00 p.m. |
| Good Friday of the Lord's Passion | April 19th at 1:30 p.m. |
| Easter Vigil of the Holy Night of Easter | April 20th at 8:00 p.m. |
| Easter Sunday: The Resurrection of the Lord | April 21st at 9:30 a.m. |
Tenebrae services will take place Thursday through Saturday at 7 a.m.
---
For last week's news story, click here.