On March 9th, we welcomed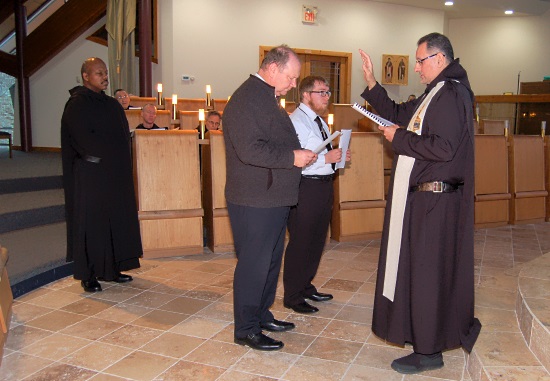 two men who chose to take an important step in their discernment of monastic life with us. Postulancy is the first formal stage of formation in our community. It is a period of six months or more in which candidates have an extensive experience living with us and getting acquainted with the monastic life under the guidance of a director. These men were officially recognized as postulants through a ceremony that took place during Vespers (evening prayer). Gregory Haines and Scott Heijka accepted the invitation to walk more closely with the Lord through this stage of formation and received a special blessing from our Prior, Fr. Damien Gjonaj. Fr. Gregory-David Jones, our Vocation and Postulant Director stood behind them as a testimony to their fitness to commit themselves to discerning, learning and growing in this formative process in the hope that they will eventually enter the novitiate. Please pray for Gregory and Scott – that the Lord will support, enlighten and bless them as they become more familiar with monastic life in our community.
---
For last week's news story, click here.