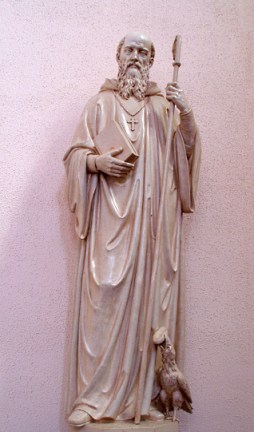 July 11th is a special day in the life of Benedictine monks, nuns and Oblate throughout the world. It is the Solemnity of St. Benedict, the founder of our Order. At St. Benedict Monastery, our celebration actually began the day before with our Oblates who celebrated the life of our founder with a Mass in the morning (which included the renewal of their commitment to live by the teachings of St. Benedict according to their state in life) and potluck picnic in the afternoon.
Because the Solemnity landed on Sunday, the Liturgy celebrating the day took precedence over the arrangement for the 15th Sunday of Ordinary time in Benedictine communities. This year, our Sub-prior, Fr. Gregory-David Jones was the main celebrant and preached at the Mass. Father's homily focused on how Benedict's determination to do the will of God can be a great inspiration for us to persevere in seeking the Lord despite the obstacles we may face on our journey of faith.
Usually for the monks at our monastery, the celebration of the Solemnity of St. Benedict is capped off with a special dinner prepared by Br. Marty Singer. However, because he was just returning to the home from vacation that very night, he felt "obligated" to cook an exceptional meal for us nonetheless. So, in "retrospect" of the Solemnity, Brother prepared a prime rib dinner in which all us the following day.
Please pray that through the intercession of St. Benedict, our monastic family here in Oxford and throughout the world that our communities will grow and our witness will continue to bear fruit.