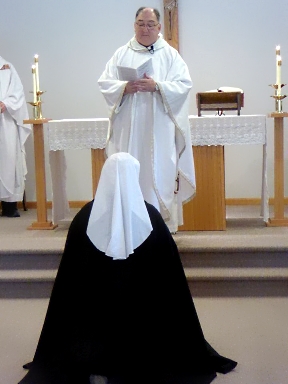 On the morning of May 21st, the monks of our community were blessed to share in the joy of the Profession of Perpetual Vows of Sr. Maria Veronica of Divine Mercy, O.P. Sister is a member of the Dominican Sisters of Mount Thabor in Ortonville. Many of Sr. Veronicaís friends, family members and fellow religious came to Mount Thabor Monastery to witness this momentous occasion.
Fr. Michael Monshaw, O.P. a close associate of their community as well as ours was the celebrant of the Mass along with several concelebrants including the monks-priests of our community. Fr. Michaelís homily emphasized the spiritual motherhood of the contemplative nuns and their important role in the life of the Church as well as the important symbols that are part of the tradition of committed religious life.
After answering a series of questions and invoking the intercession the Saints, Sr. Veronica professed her vows in the presence of the Prioress, Sr. Anne Mary. This was followed by the signing of names in the Book of Profession on the altar. The Liturgy of the Eucharist followed. After the Mass, everyone was invited to share in a delicious meal in the refectory.
As Sr. Veronica of Divine Mercy, O.P. begins this stage of her Religious Life, all of us at St. Benedict Monastery are praying for her and her Community that the Holy Spirit may bless and guide them on their journey.
---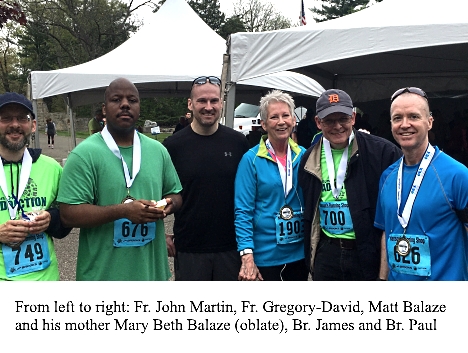 The Monks Ran Over Addiction
On the early morning of May 21st, four members of our community participated in a special fundraising event. Guest House, a treatment center for clergy and religious who are recovering from alcoholism and other addictions held their second annual Run/Walk over Addiction 5K with our community serving as one of the sponsors of the event. The course started and ended right on the grounds of the facility, but the majority of the distance was covered through the outlying area streets and trails. Over 230 people representing all ages, fitness levels and vocations participated. Br. Paul Culver, Fr. Gregory-David Jones, Fr. John Martin Shimkus and Br. James Locke represented St. Benedict Monastery well; all finished the event ranking well in their respective age groups and overall placing.
Click here for more information about Guest House
.