Our New Benectine Oblate!


We were pleas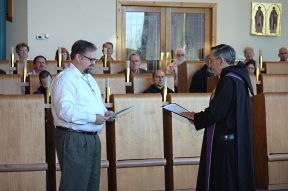 ed to receive out newest Benedictine oblate, Daniel Patterson, who made his oblate promises this past Saturday. Dan hails from Grand Rapids and is one of the several members of our group who lives quite a distance from the monastery, but has been very faithful to making the trip across the miles.
The oblation ceremony took place as our community and other oblates prayed Vespers; it was presided over by our Prior, Fr. Mike Green. Daniel promised to "dedicate himself to the service of God and mankind according to the Rule of St. Benedict in so far as his state of life permits", words signifying that through their own prayer and work, our oblates truly extend the spirit and charism of St. Benedict to the wider world.
We are excited by the continued growth of our Benedictine family and invite you to consider this way of seeking God in your own life. If you would like more information about becoming an Oblate of St. Benedict Monastery, please
click here
.
---
Easter Triduum at the Monastery
Mass of the Lord's Supper (Holy Thursday)
8 p.m.
Good Friday Service
1:30 p.m.
Easter Vigil
8 p.m.
Easter Sunday Mass
9:30 a.m.