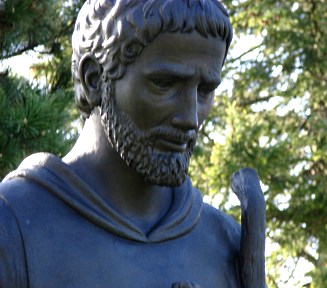 July 11th was the Solemnity of our Holy Father St. Benedict, the founder of our Order, which brought an occasion for our Community here at St. Benedict Monastery to celebrate. Our celebration actually began the evening before when we prayed First Vespers of the Solemnity and continued through the following day. We partook of our special meal prepared by Br. Marty Singer at about noon following the Mass commemorating the occasion.
The Solemnity of St. Benedict for many years occurred on March 21st which is during Lent which limited its liturgical celebration; for this reason the Church around the time of the Second Vatican Council transferred it to July 11th. Although the Church does not celebrate St. Benedictís feast in March any more the Benedictine Order throughout the world still maintains it as a feast under the title of The Passing of our Holy Father Benedict for it is the actual day St. Benedict was called home to Heaven. Remembering and celebrating the life and legacy of our founder is a way for us to renew our spiritual energy and commitment to the monastic way of life following the Rule of St. Benedict. Please pray for our monastic family here in Oxford and throughout the world that our communities will grow and our witness will continue to bear fruit.
CORRECTION: Last week's news story feature a photo with the caption "Fr. John Martin with the monks and novices at 'Adisham'". It should have been "Fr. John Martin with the monks and postulants at St. Sylvester Monastery". The photo has been corrected as found in the link to last week's story.
---
For last week's news story, click here.