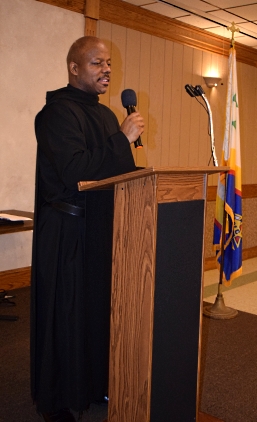 On Thursday, April 19, 2018, Fr. Gregory-David and Br. Mark ventured to Our Lady Queen of Peace Council #4556 of the Knights of Columbus in Imlay City for their district's Vocation Night. In attendance, along with KofC members and their families from the various councils in that district, were priests, deacons, and male and female religious. Fr. Gregory-David was featured as this year's keynote speaker.
After the vocations to the single life, the married state and that of being a parent were individually blessed, Fr. Gregory-David spoke on praying for vocations to the priesthood and religious life. Using his own life story, Father emphasized it was never too early for a parent to dedicate their child's life to Mary for vocation and to continue to pray for that child to fulfill that dedication with the help of the Holy Spirit. Using as an example his own community, Fat

her showed how prayers over the past few years for vocations are now being answered. Father encouraged those parents in attendance to pray for a vocation from their families from the time of the birth of their children and all those present to pray for vocations to the priesthood and religious life. Following his presentation before the end of the event, Father offered a prayer and gave his blessing to all those present.
The evening proved inspiring and informative to all in attendance.
---
For last week's news story, click here.