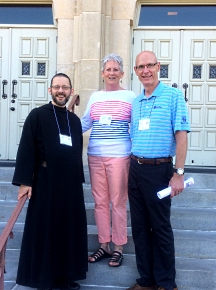 From July 10th through the 15th the North American Association of Benedictine Oblate Directors (NAABOD) met at Subiaco Abbey in the warm, sunny town of Subiaco Arkansas. The gathering takes place every two years and is hosted by one of the member communities. This year's event drew a total of 70 Benedictine oblate directors and their oblates from monasteries around North America. Our own St. Benedict's Monastery was represented by Fr. John Martin Shimkus who was accompanied by oblates Brian and Mary Beth Balaze.
This conference was themed "Nurturing Benedictine Spirituality: From Theory to Practice" and featured keynote speeches from former Abbot Jerome Jerome Kodell of Subiaco Abbey, Sr. Macrina Wiederkehr of St. Scholastica Monastery, Fort Smith, Arkansas and Sr. Karen Joseph of the Monastery of the Immaculate Conception, Ferdinand, Indiana and Rev. Jane Tomaine, Priest Associate at Calvary Episcopal Church in Summit, New Jersey. The presentations were filled with practical ways to bring the heart of Benedictine life and spirituality into one's daily life, as oblates living in the world or as monks and sisters living in community.
Among the most appreciated aspects of NAABOD gathering was the opportunity to experience the kind of hospitality that Benedictines are known for. Meals together, trips to nearby Mount Magazine, St. Scholastica Monastery and Post Winery, along with the daily rhythm of liturgical prayer offered the participants a time of grace-filled renewal that better prepared them to help strengthen the spiritual life of their own Benedictine communities!
For last week's news story, click here.