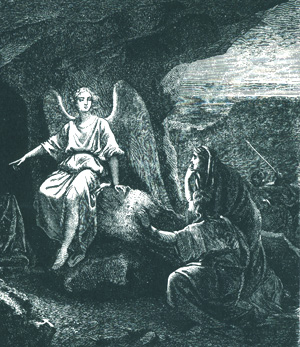 Holy Week at the monastery was indeed a special time for all the monks here. On Holy Thursday morning through Holy Saturday, we celebrated the Tenebrae service or ďService of DarknessĒ which anticipates and mediates on the Lordís suffering. Included in this early morning service are the singing of the Lamentations of Jeremiah the Prophet and the lighting and subsequent extinguishing of the Tenebrae candles. A special observance of silence started after the Mass of the Lordís Supper on Holy Thursday night which gave a fitting atmosphere of prayer and reflection in the monastery on Good Friday.
Of course, the high-point of the week was the celebration of Lordís resurrection at the Easter Vigil Mass. The Liturgy was well attended as the faithful gathered with lit candles, voices of praise and faith invigorated through the celebration of the Pascal Mystery. Although our Vigil rarely includes the celebration of the sacraments of initiation, the many other rituals: singing of the Exsultet, the Vigil of Readings and Psalms, along with the blessing of Holy Water and renewal of Baptismal Vows all add to the appropriate solemnity to the occasion. After the evening liturgy, the monks invited all who attended to come to our retreat house to enjoy refreshment and fellowship. And the Easter Sunday Mass offered another opportunity to gather with Godís people to greet the morning of the Lordís Resurrection!
---
Discernment Visitors
During Holy Week, our community was been blessed with the visit of three men who came to the monastery to discern the possibility that God is calling them to our monastic way of life. One of them is in the very early stages while the other two are further along in the process of discernment. Holy Week was an opportune time for these gentlemen to experience life in our community as we commemorated and celebrated the Passion and Resurrection of our Lord Jesus Christ. While the work of encouraging men to discern monastic life is an ongoing ministry for all of us at the monastery, your prayerful support for these men and all who are considering the life of monk in our community is a vital part of the process. Please pray that the Holy Spirit will guide them in their discernment and that they receive the grace necessary to follow the Will of God in their lives Ė wherever it by lead them.
---
For last week's news story, click here.