October 22, 2022
---
At Home With the Lord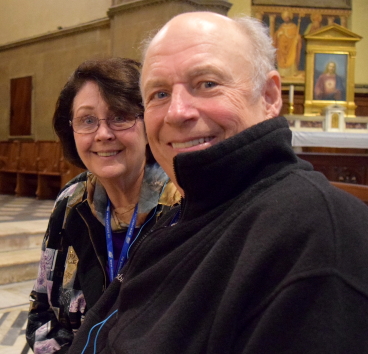 On Monday, October 10, our dear friend and Benedictine oblate, Richard ("Dick") Jositas, passed from this world and into eternal life. Richard and h
is
w
ife Helen have been oblates of St Benedict Monastery since January, 2008; they were in the very first "class". But years before that they were already regularly attending our community's Sunday Mass and benefiting from their own study of the Holy Rule of St Benedict.

As leader of the St Vincent DePaul Society at St Andrews Parish in Rochester Michigan, Richard was a caring presence toward others in need. He extended this concern through our annual Easter Food drive and by assisting in the preparation of meals at our Subiaco Youth Retreat House. We also have many fond memories of Richard from the Oblate Pilgrimage to Italy in 2014, which included Helen, Lena his granddaughter and about 20 other travelers.

Our final farewell to Richard took place on Saturday, October 15, at St Andrew's Church where he was a parishioner. The funeral Mass was presided over by Fr John Martin Shimkus, our associate oblate director. Oblate director Br Mark Orcutt and a good many oblates joined dozens of family members and friends in praying for Richard and his family and gratefully celebrating his life.

In his homily, Fr John noted in particular Richard's passion for giving others a sense of "belonging" and assurance they are valued and cared for. As Richard "prepared a place" for so many of God's children, we trust that the Lord has now prepared an eternal dwelling for him at His side!
---
Protection of the Unborn


Wednesday night September 5, 2022 Fr. John Martin Shimkus and Br. Mark Orcutt ventured down the road from the monastery to St. Joseph Catholic Church in Lake Orion, MI where they were holding one of five Information Nights throughout the Detroit area. Over 250 people filled the church to listen to a panel discussion and ask questions concerning the ramifications of Proposal 3 which appears on November's Ballot. Among the speakers was a retired medical doctor (OBGYN) and a practicing attorney specializing in Legislative Law.

Fr. John and Br. Mark left the information night amazed at the ramifications of this Proposal and the number of Michigan Constitutional Laws it would repeal and were grateful to St. Joseph for holding this night of enlightenment. When voting on November 8th be sure you are fully informed on Proposal 3 for it is a change in our Constitution and is almost impossible to change if it is enacted.

---
For the previous news story, click here.