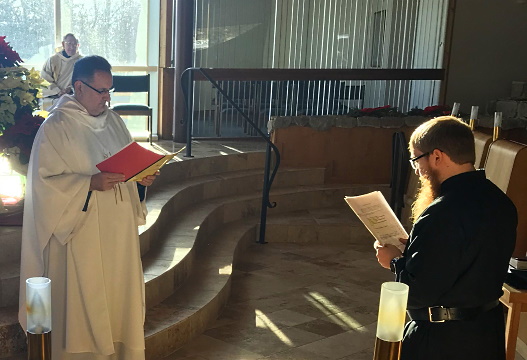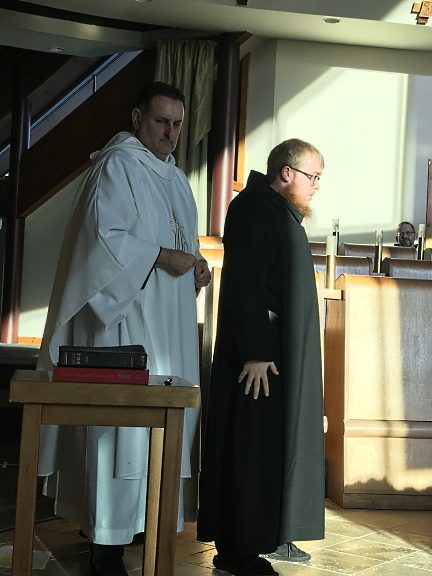 This past Saturday, January 9, was a day of great celebration for our community. Brother Nicholas (formerly Scott) Hejka of Royal Oak, Michigan made his First Profession of vows during a solemn Eucharistic Liturgy which began at 3:00 p.m. Present to witness the event was our Prior Fr. Damien Gjonaj, our monastic community and members of Br. Nicholas' family.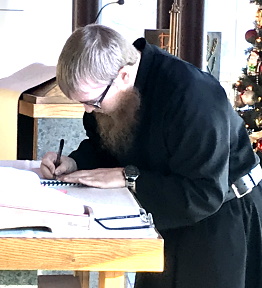 The First Profession of vows follows a yearlong period of novitiate during which time the novice is trained in the spirit of the Rule of St. Benedict and the particular customs of our monastery. He also learns and begins to practice the spiritual disciplines through which monks seek God in prayer, work and community life. Br. Nicholas' Profession is an expression of his intention to persevere in his monastic calling and to grow in the gospel values ("evangelical counsels") of poverty, chastity and obedience as well as the monastic vows of stability and conversion. He may renew these vows annually for three to six years as he prepares for solemn Monastic Consecration.
Please pray for Br. Nicholas as he enters this new phase of formation in monastic life. He has brought many gifts to our community and we look forward to his continued developing his charisms and deepening of his monastic spirit. May the Lord always be his guide and support!