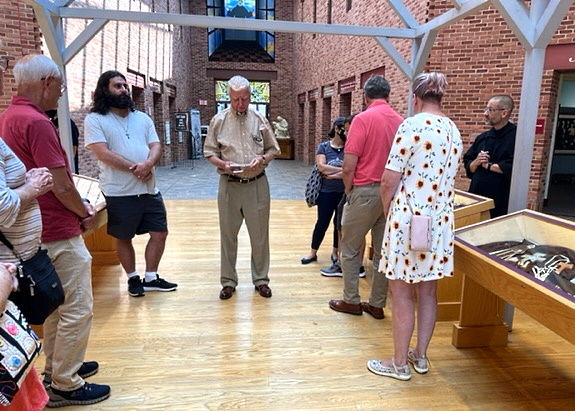 On Saturday, September 17, 2022 many of our Oblates from St. Benedict Monastery accompanied Fr. John Martin Shimkus and Br. Mark Orcutt to the Solanus Casey Center for a guided tour and private Mass. Blessed Solanus Casey was a Capuchin Friar who served most of his religious life in Detroit at St. Bonaventure Monastery where he died in 1957. His cause for Sainthood was opened shortly after and two years ago this coming November he was Beautified (the last step before Sainthood) at Comerica Park here in Detroit.
The tour began in the "Brother Sun and Sister Moon" Courtyard and progressed into the center where the many displays, artifacts and personal artifacts of Blessed Solanus are kept. As we entered the center we were greeted by 7
lifesize bronze statuses of other recent individuals who were prominent in and out of the Church in helping those in need. One of these statues depicted Dorothy Day (co-founder of the Catholic Worker and an Benedictine Oblate of St. Procorpus Abbey in Lisle, IL). During the tour we also stopped for a while at the tomb of Bl. Solanus where we had an opportunity to pray and make prayer requests.
The tour ended in the public Chapel of St. Bonaventure Monastery where the tour guide explained many of the hand-made wooden altars and some of the statues there. Afterward, we were taken to the Friar's private Chapel where Fr. John Martin celebrated a private Mass for the Oblates. All who attended were enlightened and blessed by the afternoon's activities.
If you are interested in learning more about the Oblates here at St. Benedict Monastery, please
click here
.