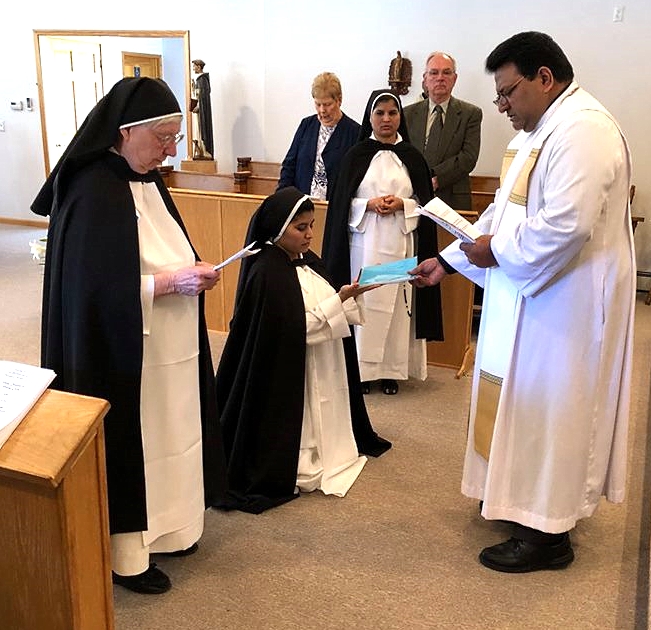 On the morning of April 7th, the monks of our community were blessed to share in the joy of the First Profession of Vows for Sr. Mary Daniela of Divine Mercy, O.P. Sister is a member of the Dominican Sisters of Mount Thabor in Ortonville. Many of Sr. Daniela's friends and fellow religious came to Mount Thabor Monastery to witness this momentous occasion. Her parents, who live in Pakistan, virtually attended the vent via Skype.
Fr. Roger Knapp, the chaplain for their community was the celebrant of the Mass along with Fr. Gregory-David, our Sub-prior and Fr. Shafique Maish, a close friend of their community. Fr. Shafique preached the homily which focused on the importance of religious life and the vows in the Church and the context of society.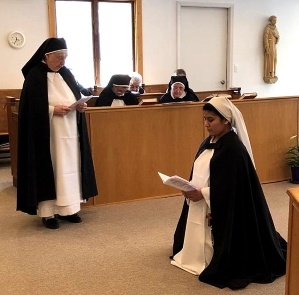 After answering a series of questions and invoking the intercession the Saints in the Litany, Sr. Daniela professed her vows in the presence of the Prioress, Sr. Anne Mary. This was followed by the signing of names in the Book of Profession on the altar. The Liturgy of the Eucharist followed. After the Mass, everyone was invited to share in a delicious meal in the refectory.
As Sr. Mary Daniela of Divine Mercy, O.P. begins this stage of her Religious Life, all of us at St. Benedict Monastery are praying for her and her community that the Holy Spirit may bless and guide them on their journey.
---
For the current news story, click here.