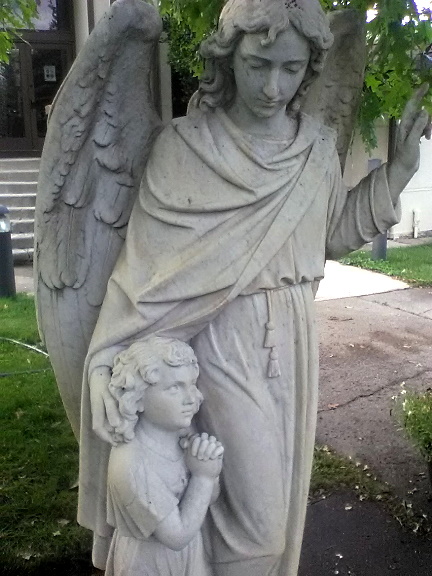 On Saturday evening, our community took delivery of a gift from our dear friends, the Dominican Sisters of Peace. Since they are moving from their property in Oxford, they have had to find a home for a good number of religious items that graced their home and grounds. This particular statue depicts a "guardian" angel guiding a child. It stood outside the dining room of the Sisters' convent for many years. "What better place for it to be now than Subiaco Youth Retreat House", was the thought behind giving the angel a new, fitting home.
Because it weighs over a ton, the monks could not simply put it in the back of a pick-up truck and bring it here. After much brainstorming and inquiring about companies and equipment to make the move possible, a family who owns a business that moves heavy equipment volunteered to bring the angel to the retreat house. Time was found this weekend and, using a special lift attached to the back of a van and old-fashioned muscle, the statue of the angel and child was delivered safely.
The beautiful 6-foot structure is a welcome addition to the retreat house. Being placed by the entrance adds to the ambience of hospitality and will be a welcoming sign for the youth who come to spend time in prayer, reflection and faith-building activities at Subiaco Retreat House. We are very grateful for the thoughtful generosity of the Dominican Sisters as well as the kind help of the family who took the time and effort to bring the statue here!