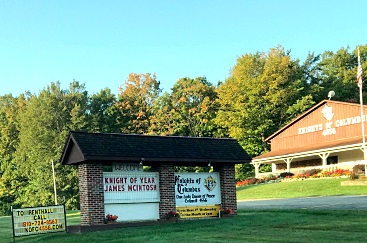 On the evening of Thursday, May 9th, the Knights of Columbus, Our Lady Queen of Peace Council #4556 held their annual "Vocation Dinner" at their hall in Imlay City. For the fifth year, Fr. Gregory-David Jones, our Vocation Director attended the event and offered the blessing before the meal. Along with him this time were our postulants, Gregory Haines and Scott Hejka. The purpose of the event was to honor the diocesan priests and religious who live in and serve the local Catholic community as well as raise awareness of the importance for everyone to promote vocations. This year the main speaker was Father James Hurley, Pastor of Immaculate Conception Church in Lapeer.
He presented the story of his "late vocation" to the priesthood and the events and persons that led him to the point of accepting the call to serve God's people through priestly ministry. Fr. James spoke in down-to-earth terms about the difficulties and personal doubts he faced as he gradually came to the realization of his vocation. Father also emphasized the joys and blessings he has experienced during his time at the seminary and after his ordination. Fr. James urged everyone to freely speak about the possibility of a priestly vocation to the men we know and encounter in our family, at church, in neighborhood, etc. because simple words and gestures of encouragement may just be the "tipping point" which confirms the call that they may be experiencing in their hearts.
---
For the current news story, click here.