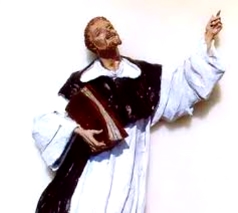 Saturday, August 5, 2017, was a beautiful day both weather wise and spiritually. On that day the Dominican Sisters of Mt. Thabor celebrated the feast of the founder of the Dominican Order, St. Dominic. Fr. John Martin Shimkus, Br. Antony Maldonado, and Br. Mark Orcutt, from our monastery along with many other Religious, friends and benefactors as well as the Gregorian Chant Schola from Immaculate Conception Parish (in Lapeer) joined the sisters in their celebration at their monastery, Our Lady of Mount Thabor in Ortonville.
The festivities began with the Memorial Mass of St. Dominic with Fr. John Martin presiding and preaching the homily. Following the Mass, the Superior of the community, Sr. Anne Mary expressed gratitude on behalf of the sisters for all the support they have received for the occasion and throughout the years. The celebration was capped off when all were invited to gather in the Monastery refectory for a potluck dinner and fellowship.
Please pray for the Dominican Sisters of Mount Thabor, that the Lord will continue to bless them as they live out their vocation in the Order of Preachers!
---
For the current news story, click here.