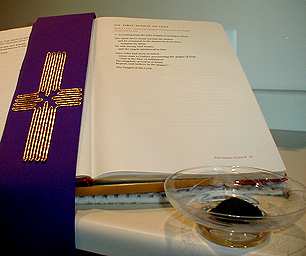 The forty-day season of Lent begins this Wednesday with the traditional giving of ashes on the forehead, calling all God's people to repentance. The word "Lent" actually derives from the Old English word "Lencten" meaning "spring". This is presumably because the Lenten season ordinarily corresponds the coming of springtime. It is through the "pillars" of prayer, fasting and almsgiving that we deepen our relationship with the Lord of life so that we can experience Easter in a more meaningful way.
On Monday, February 15th, the community had a "family meeting" to discuss a plan for the observance of the Lenten season. The purpose of the plan is to ensure that the communal observances of our monks at St. Benedict Monastery encompass the three "pillars" of Lenten sacrifice. Along with the community practices and disciplines, each monk chooses his own disciplines and sacrifices to offer to the Lord. Our Prior, Fr. Damien Gjonaj invited the monks to disclose to him their personal Lenten observances so that he can pray for God's blessings for each of us as we journey toward the road to Calvary with our Lord.
We encourage you to embrace the gift of this holy season. Prayer, fasting and acts of kindness and generosity are life changing practices that we cannot do without. We pray that the effort we are making as followers of Christ may be of benefit not only for ourselves, but also for those who count on our faithfulness and prayers. May we truly make this journey of Lent a gracious time of spiritual strength, so that we may share as one in the eternal joys of Easter!