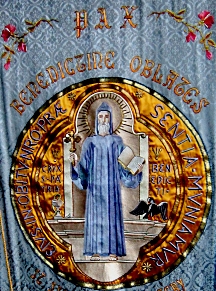 Twice a year, in Advent and Lent, the Oblates of St. Benedict Monastery take a break from their monthly morning meeting for an Afternoon of Reflection and Potluck. The Lenten afternoon occurred on Sunday, March 27, 2022 and was attended by about twenty oblates.
The afternoon began in the monastery chapel with a reflection, "The Prodigal Son Returns in Us", presented by Br. Mark Orcutt, which also was the gospel reading for that Sunday. After the reflection there was time for discussion questions and a short period of personal reflection followed by an hour of adoration of the Blessed Sacrament. During this hour our monks joined the oblates for Vespers and Benediction. The day was capped off with a delicious potluck dinner provided by the oblates in our retreat house.
Oblates have various other projects throughout the year including collecting for needy families at Easter. This year the oblates collected the funds to purchase sixty $50 Meijer gift cards to be distributed to struggling families. These cards were turned over to the Christian Service coordinator at St. Joseph Parish, Lake Orion, for distribution to families in need.
Our oblates normally meet on the third Saturday of the month. Oblates join the monks for the morning Mass then their meeting follows. A Benedictine Oblate is a lay person, male or female, married or single, who desires to follow Benedictine spirituality as fully as possible according to their state in life while remaining in the world and attaching themselves to a Benedictine community. If you would like to find out more about the Oblate Program at St. Benedict Monastery, please
click here
.