October 07, 2022
---
A Fundraiser for Life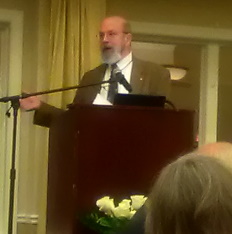 On the evening of Friday, September 27th the annual Silent Auction & Charity Dinner in support of the Oxford Pregnancy Center took place at Boulder Pointe Golf &
Conference Center in Oxford. The event included a delicious meal, raffles, silent auctions and other opportunities to raise funds for the Center and its efforts. This year, the highlight of the evening was the keynote speech delivered by Dr. John T. Bruchalski, founder of Divine Mercy Care and Tepeyac OB/GYN in Fairfax, Virginia. The organizations offer pro-life based quality medical care and support for women (including those who are uninsured) who are facing an unexpected pregnancy. Dr. Bruchalski shared the moving experience of his conversion from a pro-choice physician who performed abortions to a practicing Catholic who devotes his life to helping women make the right choice to give birth and support the lives of their children.

Fr. Gregory-David Jones (our Sub-prior) and Br. Nicholas Hejka were among the over 350 attendees who filled the conference center to capacity. It was a great event in support of the Oxford Pregnancy Center and very timely considering the issue of the right to life in the upcoming election cycle this fall. Like the work of Dr. Bruchalski, the Center is a pro-life institution that offers free information, counseling and support for expectant parents facing an unplanned pregnancy. For more information about the Oxford Pregnancy Center click here.
---
For the current news story, click here.