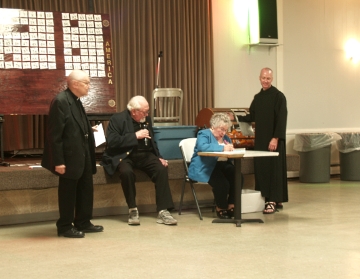 On Saturday evening, October 10th, we celebrated our annual St. Benedict Monastery Benefit Dinner. Over a month ago we started to make preparations and sell tickets (which included a meal for two and an entry for the raffle) and by the day before the event, all 120 tickets were sold. About 113 people came to show their support for our community and spend an evening enjoying good food, fun and fellowship (many attendees purchased more than one ticket). The scrumptious meal was prepared by Br. Marty Singer.
The main feature of the evening was the reverse raffle during which all the tickets were drawn to the remaining five tickets. With the remaining entries still in the game, those were drawn to select to the top five prize winners. All the finalists won money with the last ticket drawn being the grand prize of $2,000.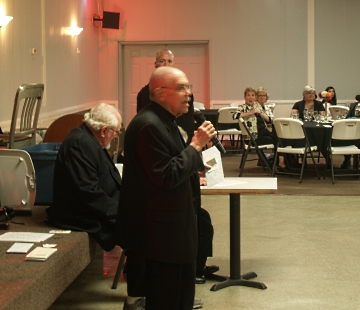 Also part of the evening were silent auctions for items ranging from hand-crafted items, specialized services, appliances and signed sports memorabilia. However, the highlight of the auction was a painting created by Br. Antony Maldonado.
The benefit was a successful and enjoyable evening for all who participated. We would like to say thank you for the assistance we received from the Knights of Columbus who also provided the facility for the event.
---
For the current news story, click here.