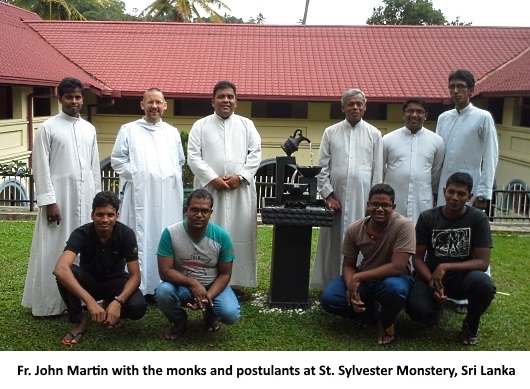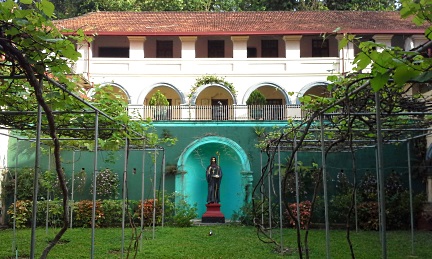 A few weeks ago, our monastic student, Fr. John Martin Shimkus, returned from Rome having completed a two semester course for formators at the Angelicum University. But before coming back to the United States Father had the opportunity to augment his studies with the real life experience of traveling to several of our Sylvestrine Benedictine communities in Asia. This is a part of the world where vocations have now greatly surpassed those in the West.
From May 28th to June 6th, Fr. John Martin visited the island country of Sri Lanka, off the coast of India. The first half of his stay was spent at St. Sylvester Monastery near Kandy. This has been the Sri Lankan Motherhouse since 1927, although the presence of our monks on the island dates back to 1845! The Prior, Fr Shamindra Jayawardena, and all the community showed most gracious Benedictine hospitality and took Father around each day to see the many places (schools and parishes) where the monks live and minister. Father also reported that it was "a treat tasting the delicious (and often spicy) Sri Lankan foods, especially the many fresh and exotic fruits!"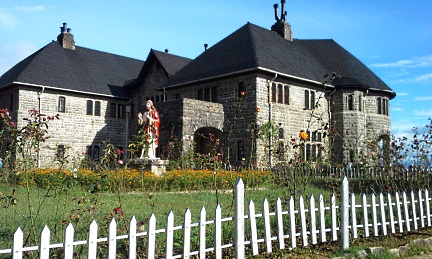 The next part of Father John Martin's sojourn took place at "Adisham", a Tudor style English Mansion built in 1931 and acquired by the Order in 1960 (around the time our own St. Benedict Monastery was founded). It is located high in the mountains and serves as the Priory's novitiate house - a little piece of heaven on earth! Father enjoyed spending time with the novitiate community there, enjoying the fresh air and scenic vistas, and touring a local tea estate and factory, as well as some of the natural wonders of the area.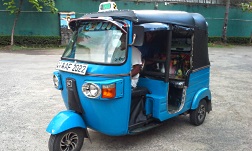 The last day in Sri Lanka was spent at Sacred Heart Parish, Rajagiriya, a church founded and staffed by our monks. Despite the limited time there, Father John Martin was given a whirlwind tour of Colombo, Sri Lanka's largest city, from the back of a "three wheeler" - a cross between a taxi and a motorcycle. Talk about a wild ride! Father reflected that "it was such a blessing to be able to share a bit of the life of all these good people and brother monks!"
(Part 2 of "A Wondrous Journey to the East" will be on a future edition of this news page!)
---
For last week's news story, click here.