July 23, 2011
---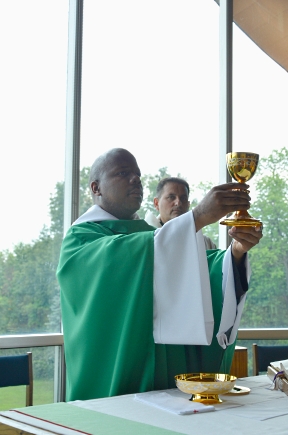 Fr. Gregory-David Jones celebrated a Mass of Thanksgiving at St. Benedict Monastery on Sunday, July 21, 2013, the day after his ordination to the priesthood. The Mass was attended by many of Fr. Gregory-David's family and friends, some of whom traveled hundreds miles to share in this special day in Father's life. Fr. Michael Green and Fr. Damien Gjonaj concelebrated the Mass with our newly ordained priest and the St. Benedict Chorale, under the direction of Fr. John Martin Shimkus – also concelebrating - provided music for the service.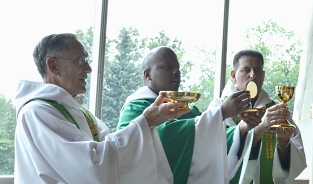 During his homily Fr. Gregory-David thanked all those who provided prayer support and encouragement along the road leading to this moment. After Mass Fr. Gregory-David offered his priestly blessing to those who wished it and many went across the driveway to the retreat house for refreshments and fellowship. We would also like to thank Fr. Gregory-David for his unselfish dedication to our
community and the Church and ask the Holy Spirit to guide and bless him throughout his priestly ministry.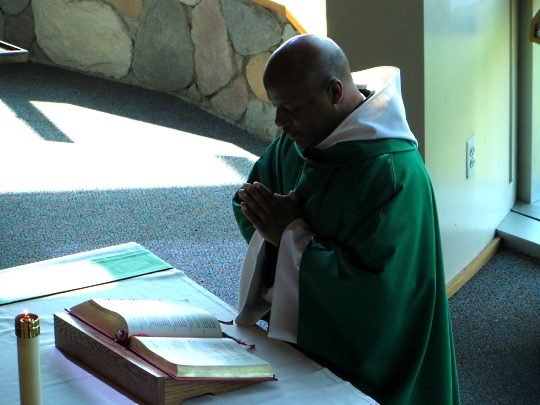 Thank you to all who have been supportive of me during the last few years of my preparation for priestly ministry. Today was the culmination of the discernment, study and work that is the starting point for the rest of this chapter of my life as a Catholic, a Benedictine monk and now a priest. I cannot put into words what your encouragement and support has meant for me. All I can do is express my appreciation by doing all that I can (with the Lord's help) to live worthily the vocation I have received as a priest. God bless you!
Fr. Gregory-David Jones, O.S.B.
Mass of Thanksgiving
July 21, 2013
---
For last week's news story, click here.